Online Image Resizer
This is a free online image resizer that you can use to resize the JPG and PNG image size in pixels without losing the image quality. With our photo resizer, you can convert the image size in a required width and height in pixels. We also have pre-defined image sizes for social media profile pictures and cover photos that you choose from the drop-down.
How To Resize Image Online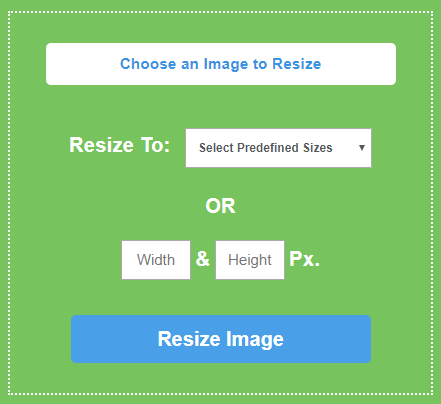 To resize an image online, you have to follow these mentioned steps:
Upload an image: Select the PNG, JPG or JPEG image from your device that you want to resize.
Type your new width and height: After uploading the image, type width and height (in pixels) that you want.
Click submit button: After entering width and height, click the submit button.
Click download button: Then, click on the download button to get the resized image.
How To Resize an Image in Paint
Resizing an image in MS paint is a very easy process, to resize an image in paint you have to go through below mentioned steps: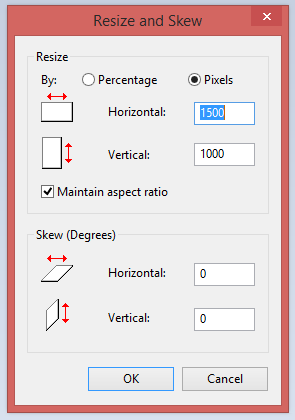 Open MS paint and press CTRL - O to select the image.
Then, go to the Home menu bar and click on the resize option.
Now, resize window appears, where you have two options, one is percentage and second is pixels.
To resize the image in percentage, select percentage button and type required width and height, then click OK button.
To resize the image in pixels, select pixels button and type required width and height, then click OK button.
Resize Image For Social Media
You can resize image for social media platforms like YouTube, Instagram, Facebook, Twitter, Pinterest, Linkedin, Tumblr, Snapchat & WhatsApp. Below we have mentioned the sizes for social media images:
Following are the situations, where you can use this online image resizer tool:
To add a custom size image to the website
To post images in different social media platforms that required custom dimension images
To add custom size image for on forms
To make a custom dimension photo frame
Why you should use our online picture resizer rather than others?
We have predefined sizes for social media profile pic and posts
Our website is fast and mobile friendly
It is very easy to resize an image by using our tool
We never ask for email and registration