Online Image Resizer
Resize JPG, PNG image online by choosing predefined size or customize height and width, get desired image which is easier to upload on any website, shared by email. When image size matters, you often have to compromise with quality. Still, with our image resizer online tool, you do not need to compromise with image quality.
Process to Resize Image using Online Image Resizer: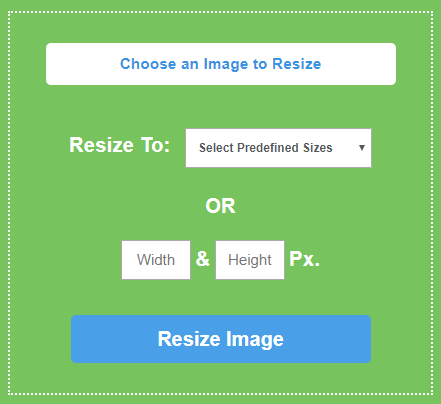 Click on the Choose an Image to Resize button to select JPG or PNG image from your device that you want to resize.
Select a predefined size from the Resize To drop down menu or type Width and Height in appropriate boxes in pixels.
Click on the Resize Image button.
Tap on the Click here option to download the resize image.
Process to Resize Image in Microsoft Paint: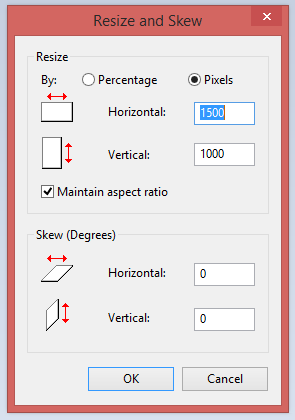 Open Microsoft Paint by pressing the Window-R button together, type pbrush and click on the OK button.
Tap Ctrl-O to select the appropriate image
Tap on the Resize option to see the resize and skew window, where you see two options which are Percentage and Pixels
To Resize the image by percentage option, choose percentage radio button.
Enter the required height and width in appropriate boxes, press the OK button.
To Resize the image by pixel, select the pixel radio button, Enter the required Height and width in appropriate boxes, Press the OK button.
Resize Image For Social Media
You can resize image for social media platforms like Instagram, Facebook, Twitter, Pinterest, Linkedin, Tumblr, Snapchat & WhatsApp. Below we have mentioned the sizes for social media images:
Disclaimer: We do not keep your images, all of the uploaded and resized images will be removed automatically after 24 hours and we do not view, copy, share or sell your images.